The Br. Andrew Gonzalez Hall has been stirring the Lasallian community after repeatedly inconveniencing it with repeated elevator breakdowns. The building was not spared from multiple dogshow posts on DLSU Freedom Wall and trash talk threads on Reddit over its elevators' long lines and unreliability.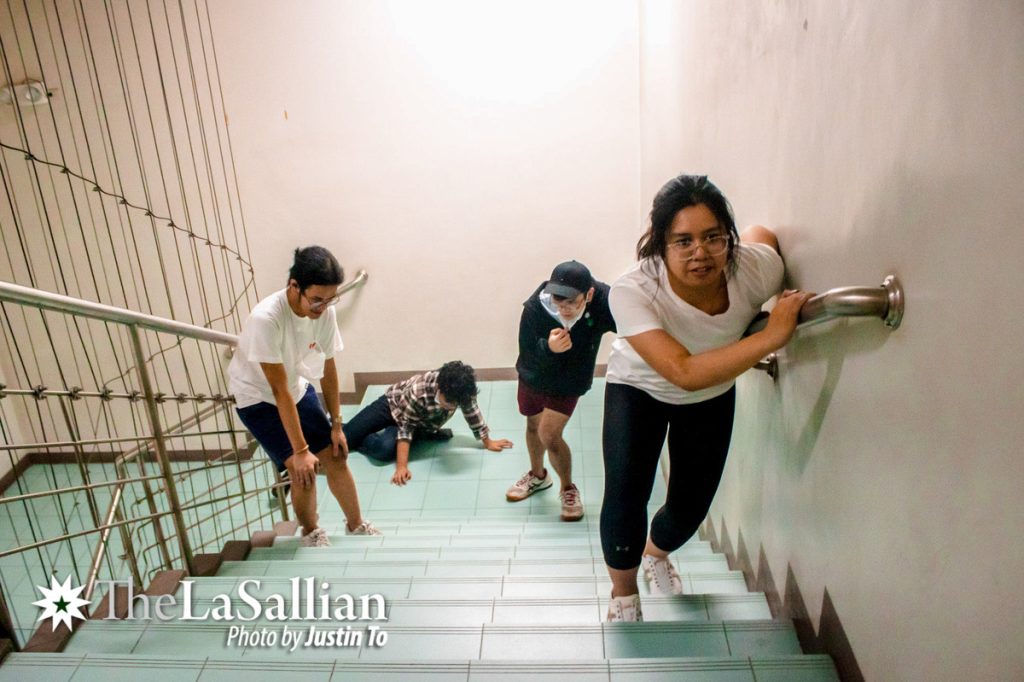 Following months of speculation on the reasons behind the elevators' inoperability, The LuhSallian digs deeper into the reasons why the problem persists as the whole Lasallian population is left to worry about the building's state.
A new GE course or for better health?
"The elevator breakdown compels the Lasallian community to utilize the stairs," Hugh Danan, StairMaster Executive of the Agency of Facilities and Area Management (AFAM) explains. He adds that they are considering maximizing the elevator breakdown by using the stairs as a possible venue for new Physical Education courses.
"The broken elevators in Mt. Andrew are unfortunate," Danan comments. "However, we think that this minor mishap can be seen positively. The stairs hold great potential for a new kind of sports subject for the Lasallian community," he adds, hinting at their hopes for a General Education in Stair Climbing (GESTAIR) subject.

Lecturer Ellie Vator, on the other hand, notes that the Physical Education Department (PED) plans to focus on improving the curriculum of current General Education (GE) physical education subjects. This was prompted by their discovery that there was a 42-percent failure rate for the FitnessGram Pacer Test among students who took their PE course in Term 1 of Academic Year (AY) 2022-2023.
Vator stresses, "The numbers shocked our department. But we know that as Lasallians, we can build our aerobic capabilities as one."
Focusing primarily on the health and well-being of students, Vator also believes that the advantages of the elevator issues outweigh the disadvantages, saying "in the long run, students will be able to excel more, physically."
Survival of the fittest, literally
Chief of Staff Rody Rigo from the Office of Admissions and Scholarships (OAS) reveals that the University administration intentionally ordered the halt of elevator operations to sift through the large student population. Core values—the spirit of faith, zeal for service, and communion in mission—are being tested within the students to determine if they have what it takes to be a Lasallian achiever for God and country.
"It's a great way to gauge a student's dedication to the school. It's why we've been intentionally placing block sections, like ID 122, in Andrew," the OAS chief spills.
The LuhSallian has learned through various interviews that the spike in student population was because the University has pegged its acceptance rate with inflation, which recently hit 8.6 percent. Now that freshmen intake has surged along with onion prices, OAS looks to passively lessen the population by making students use the building's stairs until they voluntarily drop out of the University.
"I actually almost got run over by a Vios in Agno, kaloka, then laban na naman ako to go up ng Andrew," Eileen Dover (I, ACM) complains.
(I actually almost got run over by a Vios in Agno, crazy, then I had to face a battle again, going up Andrew.)
Being a student in Manila is not for the faint of heart, as emphasized through Rigo's optimism about their objective, reflecting on his past as a Lasallian alumnus. "I remember having to cross lakes, bridges, and dangerous highways to get to DLSU. Looking back, I'm grateful because that trained me to be a better and benevolent Lasallian," the strongman reminisces in Bisaya.
Kasalanan 'to ng mga frosh
Following the De La Salle University College Admission Test (DCAT) for AY 2022-2023, Andrew once again saw its elevators out of order, much to the inconvenience of the current students.
"Hindi pa nga sila frosh pero kasalanan na nila," complains Doris Shutt (IV, AB-ISE).
(They aren't even frosh yet and it's already their fault.)
Other upperclassmen came up with several theories as to how the incoming ID 123 freshmen had a hand in the sudden malfunctioning of the Andrew elevators, such as rumors of inherent bad luck among freshman batches leading to an elevator breakdown.
"I firmly believe that wherever the frosh go, misfortune follows," asserts Nicole Po (III, BSCE), "Isn't it too much of a coincidence that the elevator breakdown happens the day right after their DCAT?"
"I believe it's a sign," Leah Inbed (II, BSED-BIO) claims, "What if the elevator breakdown represents how populous and chaotic the incoming freshman batch will be to the point that even such a large building like Andrew won't be able to sustain them?"