As the government continues to push for the modernization of Public Utility Vehicles (PUVs), drivers and transport groups have maintained their stance against it, calling for a better modernization plan.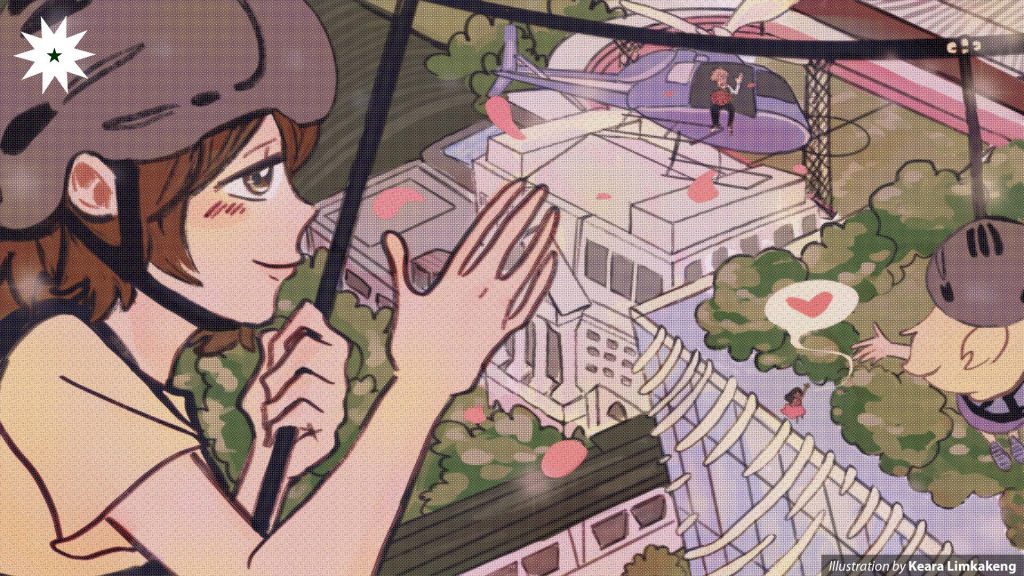 To make sure Lasallians find no trouble commuting to their loved ones in such cases, on April 1 is launching an extended version of Arrows Express—Animo Express—to provide free shuttle services for couples who are in long-distance relationships (LDR). The University is eyeing cable cars and ziplines for destinations across Metro Manila, with helicopters and private planes for provincial and international trips, as future expansions of the service.
Plight of students, distant heartbreaks
The unbearable heat and long lines have made commuting in the Philippines challenging, and Lasallians are not exempted from this. Kyle Mauricio (II, CAM) shares that "it's really hard to commute because I'm from Antipolo and when I have morning classes, I have to wake up really early just to make sure that I'll still arrive in time even if there are any delays or traffic."
While the University has provided point-to-point shuttle services from the campus to different parts of Metro Manila with Arrows Express, it is yet to address the possible impacts of future transport strikes on Lasallians' LDRs.
"Actually, I'm hoping that there are more [transportation] services provided by the school because I just can't wait to see my baby. We fought kasi the last time we saw each other and it's been so hard not seeing her for a day," Luis* (III, BS-MKT) laments.
Luis is not the only student that wants more options. "I usually commute going to places like seeing my boyfriend or meeting my friends after school and they live all the way in Quezon city pa so it's really a big thing for me," Sam* (I, BSA) adds.
She asserts that the lack of accessible transport systems in the University has become a problem for many of the students, "Additionally, I feel like DLSU should provide more shuttles or basta a way for students to go to and from school."
A new yet familiar route
The Support Services Office (SSO), which handles DLSU's transportation services, has also expressed its support for the new venture.
"We believe that Animo Express would extend service toward the complex transportation needs of the Lasallian community and leave no love birds behind," says SSO Director Heart Nabato.
Animo Express will launch with four service lines to the University of the Philippines-Diliman, Ateneo De Manila University, and the University of Santo Tomas. If the first phase of the project is successful, DLSU plans to add ziplines and cable cars to beat traffic, as per the suggestion of Sen. Robin Padilla, according to the SSO.
The shuttle services will be available in all DLSU campuses and will operate from Monday to Friday from 6 am to 6 pm.
In preparation for the service's launch, the University Student Government (USG) posted a survey for a headcount of the number of passengers who would be availing of the shuttle services. The line for Ateneo De Manila University garnered the highest number of possible passengers, followed by the University of Santo Tomas, and the University of the Philippines, respectively.
Saan aabot ang pag-ibig mo?
Lasallians with LDRs in other universities have called to expand the service lines of Animo Express. Wacky* (IV, BSCE) suggests that shuttle services must be available for "all students who find love in all places."
"My partner is from NU (National University) and they always say that I use my studies as an excuse to not go to their condo every night at 8 pm. As an engineering student, I just find it sad that DLSU perpetuates the image that we are walking red flags," he adds.
Concerns surrounding the lack of available transportation services in international and provincial areas were also part of the discourse before the launch. Stacey (V, ABIS-EUS) complains that helicopters, yachts, and airplanes must also be available for passengers commuting outside Metro Manila.
USG President Alex Brotonel says that the USG will be collaborating with SSO to land partnerships with major airlines to add air travel to Animo Express, adding that they are eyeing Emirates. "[The USG] is still finalizing its set budget plan, available staff, and other measures needed to make this a sure plan. We assure the Lasallian community that we will make this happen, as we believe that love knows no boundaries."