Ever since their debut in Season 84 of the UAAP Men's Basketball tournament, Ben and Michael Phillips have won the hearts of many with their charm and play for the Green Archers. Nicknamed "Motor Mike", M. Phillips bagged a Mythical Five selection en route to finishing second for the Rookie of the Year award in Season 84. "Kuya Ben", meanwhile, has made his presence felt seemingly everywhere, as he stands out in both the basketball and volleyball court.
As it was announced earlier this year, their middle brother, Isaiah, will be joining the two in the playing pool for Season 86 after he finishes his undergraduate degree at Miami University. However, The LuhSallian uncovered that a fourth Phillips brother has been recruited to bolster the La Salle roster and is ready to make his mark. Jeremiah, the youngest of the four, will make the jump straight to Taft when he graduates from River High School later this year. He is eligible to play in Season 86, where he aims to be a La Salle favorite, just like his kuyas.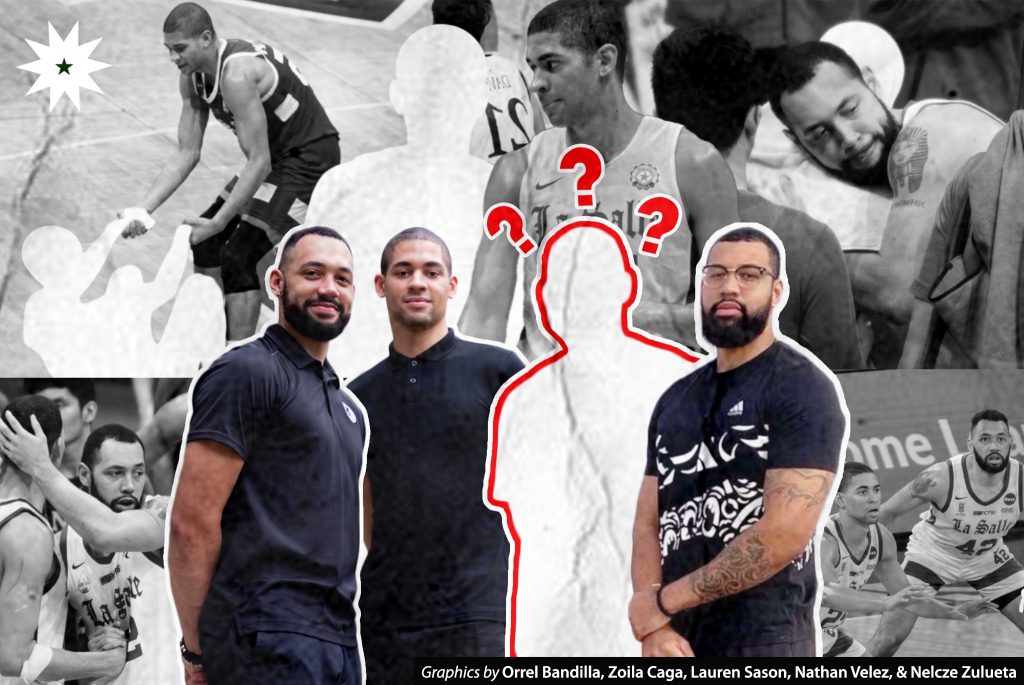 Brothers in arms
As the "bunso", Jeremiah Phillips always looked up to his older brothers. He narrates how they always give him advice about life and pursuing careers in fields like basketball and business saying, "My Kuyas told me to take a chill pill, take it one step at a time since I can't rush the process when it comes to putting my heart in different fields." But, as he embarks on his highly-anticipated UAAP journey, he laughingly shares Kuya Ben and Mike's advice for the Taft life, "Don't get burnt out by the heat!"
Not wanting to get lost in the spotlight at an early age, Ben, Michael, and Isaiah purposely kept their 17-year-old sibling off the radar. Ben explains this further saying, "We wanted him to grow and develop an identity for himself first before he gets exposed. Look at him now, he's super charming just like his kuyas!" Proud of their youngest sibling's development, the brothers eventually opened the idea of him playing for DLSU to management as his game has matured subsequently.
Standing at 6'8", the young Jeremiah is still expected to grow and is projected to be the tallest among the quartet. The high-school phenom also boasts impressive ball-handling and playmaking skills, something that he developed over years of being the smallest among his brothers. "I was always the point guard ever since middle school. It was only recently when I had my growth spurt that I started playing as a big man," recalled the youngest Phillips brother. With his unique combination of size and skill, the Green Archers were quick to recruit Jeremiah, aiming to utilize the high-schooler as a point forward.
Roots
Hailing from River High School St. Phillips County, Florida, Jeremiah competed in different Amateur Athletic Union (AAU) tournaments in Ohio where he played against rising NBA superstars. Jeremiah shared his basketball journey in playing in AAU basketball, "I have competed against Paolo Banchero, Chet Holmgren, Jaden Ivey, and a lot more in AAU who made me want to be a better player overall. It challenged me to be great and really refine my individual skills."
During the start of the new academic year, he plans to take up a Bachelor of Science in Entrepreneurship degree and be like his brother, Ben, who is taking up his master's degree in La Salle. "I know that playing sports is not forever, I want to graduate and have a degree to hone my entrepreneurial skills," the fourth Phillips utters. Back in Ohio, he buys random materials like calculators on the internet and flip it for a high price to gain profit.
Now with all four Phillips brothers bolstering their front court, the Green Archers will be entering Season 86 as the probable favorites. "Ben and Mike have been great for us and are always a joy to coach, so I was elated when they told me that there were two more of those Phillips boys," laughed DLSU Head Coach Topex Robinson. Along with the obvious talent Jeremiah and Isaiah bring, the unreplaceable chemistry among the four brothers formed from years of playing with each other will be a big advantage for the Green and White. "We know each other so well that we don't even have to call out our plays to each other," Jeremiah jokes.
From the famous Ball brothers of Chino Hills to the Gasol brothers of Spain, the Phillips brothers will look to leave their fraternal mark as DLSU's top basketball family. Ben and Mike already claimed numerous awards and won the hearts of Lasallian sports fans, thus, the addition of Isaiah and Jeremiah will only strengthen the family's claim to fame as they aim to bring back men's basketball glory to Taft.