In order to alleviate language barriers among students and faculty, the Student Discipline Formation Office (SDFO) released a handbook on the various Lasallian dialects today, April 1.
The in-depth manual consists of the definitions of common Generation Z (Gen Z) terminologies and abbreviations. It also includes reference pages that differentiate accents and word ticks to avoid confusion and misinterpretations between the types of "conyo" within the University.
The LuhSallian highlights its contents and explains the origins of the languages and dialects on campus.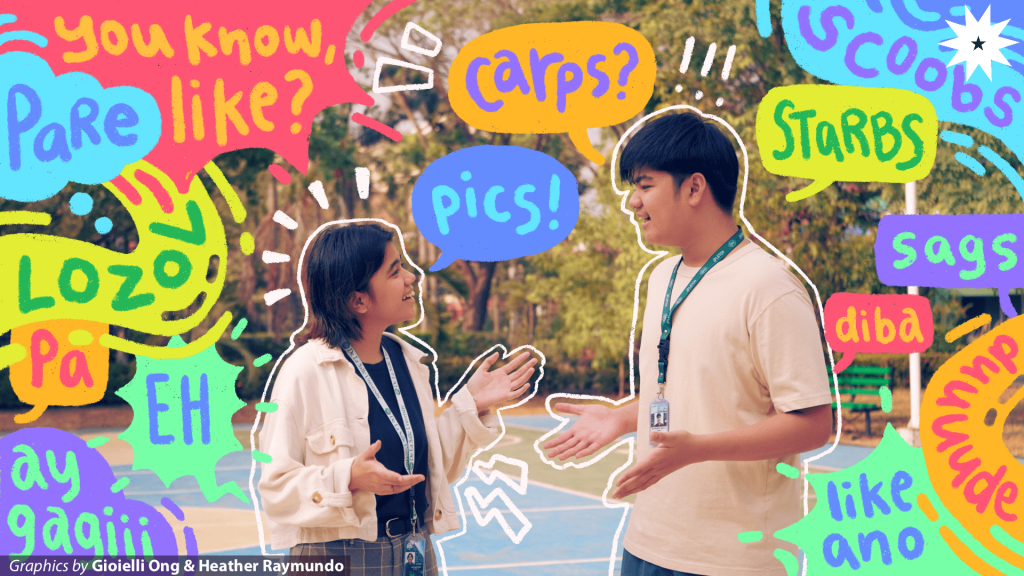 Different flavors of Lasallian slang
Many widely used phrases in the conyo dictionary emerged from schools around Metro Manila. Students adapted the language when people started code-switching from English to Filipino and vice versa. According to Conyonese expert Peter Gomez, the terms used by Lasallians are largely inspired by internet slang.
"Similar to the word 'lodi' which means idol, I have noticed that Gen Z have revived the trend of interchanging syllables or flipping words backwards like 'dein' or 'deins'," Gomez expresses. "You see words like 'awit' and 'scoobs' on the internet. as well as when they interact with each other on various social media platforms like Twitter and Facebook." According to Lasallians online, they all collectively understand that the use of "awit" derives from the expression "aww, sakit", while "scoobs" is understood as "no way" from the word "dein" which was taken from the titular character "Scooby Doo", who is modelled after a Great Dane.
Upon entering the University, alumni from La Salle high schools introduce their languages to the current college students, expanding an ecosystem around the conyoverse.
"Oo gagi pare, GH (La Salle Green Hills) and Zobel (De La Salle Santiago Zobel) bros speak different talaga." Miguel Oronce (II, BSMKT), a graduate from La Salle Green Hills, elaborates. "I would say na we have a raspier, pa-macho voice. GH is the pinnacle of conyo people."
The distinction between the accents can be heard depending on the geographical location in Metro Manila. Students from northern areas in Quezon City, Marikina, and Pasig tend to use more Filipino words than English and overuse multiple expressions in one sentence such as "gagi" and "shiii".
Muntinlupa, Makati, and Manila schools generally speak more English phrases than Filipino, with De La Salle Santiago Zobel most known for creating their own words like "waba" or walang bayad, which means to pay for someone else.
Female students from Assumption College Makati, Saint Pedro Poveda College, and PAREF Woodrose School are more known to elongate their syllables and end their words with "-uh".
The future of conyo
Linguistic experts have also referred to the slang used in the University as "very fascinating". Since the return of face-to-face classes, students have joked that DLSU has turned into a "clout-chasing university" because of the increasing amount of students who started to follow the conyo-maarte stereotype—an image of people who are stingy with money and talk in a Taglish language.
With TikTok becoming a big platform for students, especially frosh, students are seen right outside Henry Sy Sr. Hall creating TikTok content on mobile phone stands while attempting to use dialects used by many Lasallian conyos.
"Sis, I have 3,500 followers on TikTok. A lot of people will probably think I'm making mayabang, but I'm really not. I use my platform to talk about my life in DLSU!" Gabrielle Nuñez (I, AB-CAM), a social media content creator, confirms, "I like telling my followers na I go to Starbs or Tim's for my coffee in the morning or how I hang out in Agno during my free time."
As students flaunt themselves on one of the biggest social media platforms, they also bring the Lasallian culture to the public eye, allowing more Filipinos to jump in and exploit the conyo talk trend for clout.
With the manual, SDFO expects upcoming freshmen will get used to the Lasallian dialects instead of having to figure it out themselves. "It was made especially for freshmen and faculty to equip themselves with Lasallian culture," SDFO Director Michael G. Millanes says.