After several closed-door deliberations on the volume of students utilizing the University's facility, the University announced plans to turn the Gokongwei Hall into a certified five-star hotel that provides students with accommodation services worthy of the "Lasallian standard".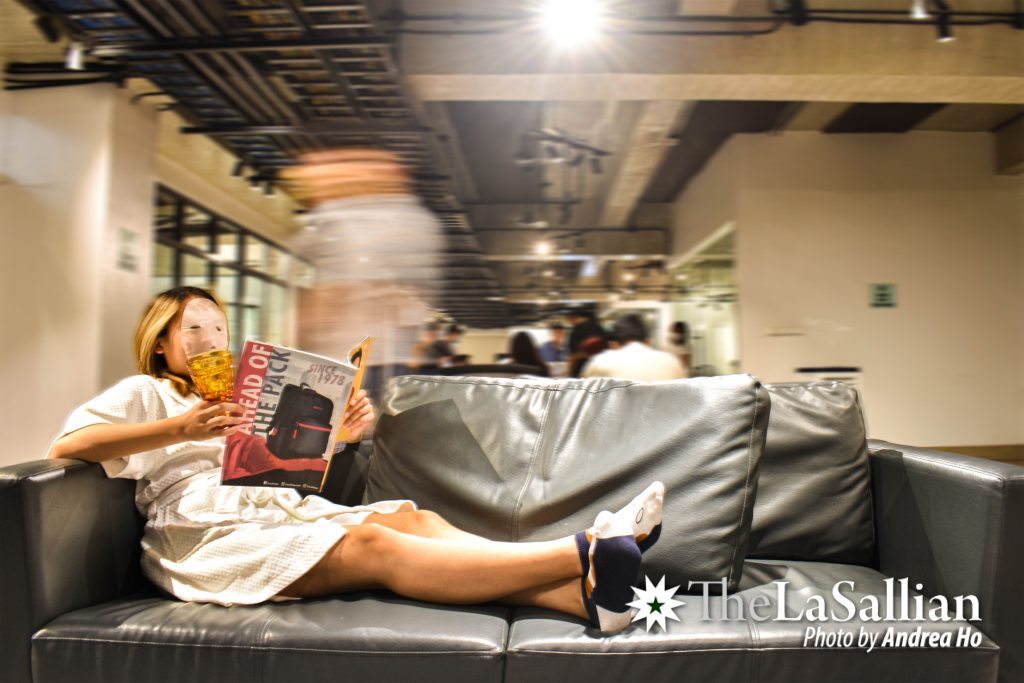 Construction of the proposed hotel will commence in late 2025, starting with the demolition of Gokongwei Hall to rebuild a taller and grander structure—even though the lobby had just been renovated throughout the pandemic—according to Associate Vice Chancellor for Campus Development Benilde Razon.
The plan unfolds
During a press briefing held last February 30, the University administration admitted that they were moved by the sight of students sleeping on the hall's cold hard floors to pull all-nighters.
"Nakita namin 'yung mga natutulog sa Goks kawawa naman 'tas naisip namin, bakit hindi natin sila bigyan ng mas kumportablengaccommodation worthy of the La Salle standard?" shares University Cramming Consultant Dr. Alice Chan.
(We saw students sleeping pitifully in Goks and we thought, why not give them a more comfortable accommodation?)
Lasallians should not rejoice yet, though, as the hotel will not be for free. Aside from needing funds to renovate the learning facility once again, the administration hopes that implementing a separate payment scheme for the hotel will prevent the need for tuition fee increases in upcoming years.
"We thought of a way to avoid tuition fee increases, which everybody dislikes, while still providing a way to earn valuable revenue to keep our University afloat," says Chan.
While many students were appreciative of the University's efforts to provide better accommodations, several fear the costs that will be imposed once the plan pushes through.
"We are so excited, of course, because slaaay, we now have a hotel in campus, the beanbags and sofas will not be so maitimand the place will not be amoy pawis na. Kaso, pa'no naman 'yung mga students na hindi afford 'yung new fees 'di ba? Where will they study or maketambay?" shares Gema Mamo (I, BS-ORG).
(The beanbags and sofas will not be so dark and the place will not smell like sweat. But, how about the students that cannot afford the new fees, right? Where will they study or hang out?)
From pantry to buffet
In the same press briefing, University Student Government (USG) President Alex Brotonel introduced the official restaurant of the hotel, Weigang, an exclusive franchise of Wolfgang Steakhouse.
"Sabi namin, tutal, the students loved our small community pantry, and we, the USG, only want what's best for you guys. So, we are back and better to present Weigang. Here, we will serve you nothing but high-class food," says Brotonel.
Weigang's menu, curated by Michelin-starred Head Chef Bobby Slay, includes some of the most luxurious and bank-breaking cuisine that will take students around the globe.
"Various cuts of steak like porterhouse and ribeye from the United States, filet mignon from New Zealand, and kobe wagyu from Japan are available for Lasallians. Beluga caviar from Iran is also on the table. We've got it all for you," Slay shares.
To top the full-course meals, bottomless mocktails like non-alcoholic Cosmopolitan and Margaritas and sparkling wines, are some of the choices that Lasallians can choose from an extensive list recommended by a mixologist especially hired by the University to cater to students just to give them the feel of "drinking" without actually getting drunk.
This big reveal was a welcome change for most of the students. Dina Ligo (III, AB-ACM) says, "Well, the USG's role for me is so important. Because, [they were] the one…[who] made this all possible."
Bing Bong Mantes (IV, BS-MEH) also stresses that the Lasallian community "dasurvs this hotel so much because we are pagod na talaga with acads, so it feels great to know na we can easily go to Goks to relax, especially those without condo around Taft."
These expensive, these is black cards
A tier system will be implemented, which will identify the amenities the students can access based on their payment terms. Amenities include access to the spa, sauna, study rooms, hotel rooms, and Weigang. Strict compliance to these tiers will be enforced and managed by the Gokongwei Amenities for Wellness, Knowledge, and Sustainability (GAWKS) Committee under the USG.
Black card holders, the highest tier, are those who paid a fee of P20,000 in full and upfront. They are entitled to consume their fee in Weigang with VIP treatment and unlimited mocktails and sparkling wines, and access to all amenities.
"When I heard na there's a spa pala, I immediately availed [of] the Black [card] kasi it's so hassle to book spa appointments in Makati tapos I need to travel pa and make gastos sa Grab. Plus, may unlimited mocktails pa pala kaso its sayang because it's non-alcoholic pala. But anyway, so I was like 'purr, I'm one of them black card b—'" Paige Ingrid Piquit (IV, AB-SPA) overshares.
Meanwhile, Platinum cardholders will get the same treatment for a two-installment P10,000-payment plan, which is also consumable at Weigang, but patrons must now pay for their drinks by the glass.
For P6,000 and in three gives, Gold card holders can only enjoy Weigang and study rooms. Silver card holders can access the same amenities at a lower consumable fee of P4,000 monthly.
"'Yung gagawin namin, as someone na laging tight ang budget, ipagsasama-sama namin 'yung mga Gold cards namin para makatipid din kami sa inom at pagkain. Kahit hindi na hard drinks, okay na 'yun basta solb na kami." Guippeto Namie (III, BS-TPD) shares with The LuhSallian a hack that their group will do on the opening week of the hotel.
(What we will do, as someone who has a tight budget, we will combine our Gold cards for us to save money on booze and food. Even if it's not hard drinks, it will do as long as we are full.)
The Bronze tier can only use the study rooms on the ground floor of Goks for only P700 weekly. Regular DLSU ID cardholders will not have access beyond the ground floor and can only make use of the existing chairs and equipment like the flat, sad, and disgusting bean bags, sticky, icky, yucky leather couches, and the cold hard floor.