While the DLSU administration has constantly assured the Lasallian community that the campus wifi, Animo Connect, can cater to all users on campus, Lasallians continue to experience several issues on slow internet speeds and other connection difficulties with the wireless network.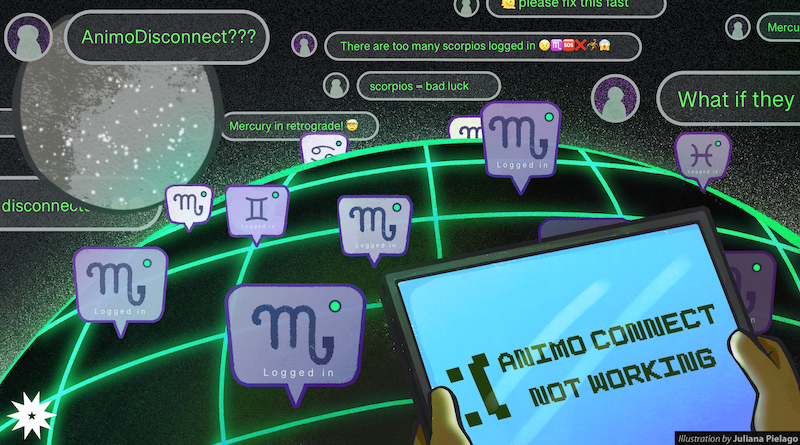 Students report slow connection with Animo Connect, with some entries on the DLSU Freedom Wall Facebook page saying "Animo Connect? More like Animo disconnect!"
The Information Technology Services (ITS) office recently released a statement saying that they are looking into possible causes of such issues. "Among the things we are currently focusing on is the possible astrological interventions that slow down the campus wifi."
This is not the first time that stars and zodiac signs are suspected to affect University operations. In 2021, the Office of Astrological Admission was created to facilitate the use natal charts to determine students' enlistment schedules.
Reconnecting loop
It is doomsday for many Lasallians as Mercury takes a turn out of its natural orbit.
Zack Kim (II, BSA) blames the issue entirely on the Mercury retrograde. The Mercury retrograde is known by many students of astrology as the cause of miscommunications and delays, hence the suspicion that it is the cause behind the issues of Animo Connect.
Mal Lasse (I, AB-CAM) also blames Lasallians with Scorpio and Virgo star signs and pleads for them to disconnect and use their data instead to lessen the trouble for other users. "Stop spreading your bad luck," she comments.
When a planet appears to reverse its course, this is referred to as retrograde motion. Those who are astrologically oriented anticipate frequent misunderstandings, scheduling issues, and arguments during this time because Mercury is the planet that is considered to rule communication.
Moreover, this backward turn of the planet of communication usually brings back lost conversations, which means the campus Wi-Fi is used less for work and more for talk; Scorpios are instantly replying to unexpected messages from their ghosters. The overwhelming emotions of Cancers lead them to impulsive Twitter rants and toxic revelations. They also download dating apps to seek revenge against their Lasallian friends, judging every user they swipe right.
With numerous reports of disconnections almost every month, Maeva Latt (III, AB-POM) suggests that DLSU may be stuck in a Mercury retrograde state and urges the administration to plead with the universe to solve this.
Stars unaligned
After receiving complaints from the Lasallian community, the ITS swears it will strive to double its efforts in looking into the possible causes behind Animo Connect's slow connectivity.
The office says that posts from students helped them trace the causes of the problem that involve astrological interventions, especially the retrograde and star signs. "We tried to troubleshoot the network multiple times but failed to find anything, so we decided to finally check the star signs of most of the users," they state.
ITS' data shows that around a quarter of the population of Animo Connect users are Scorpios, while a large chunk of the non-Scorpio population has their moons in Virgo. These signs being among the most hated by the community due to alleged red flags and excessive self-centeredness add to the effects of the Mercury retrograde felt within the University and further fuel connection difficulties.
While the ITS is still currently seeing what stars should align to better Animo Connect's performance, they encourage Lasallians to do their part by checking their zodiac signs and voluntarily disconnecting if they see fit.
Countering the negative
Because the issues of Animo Connect are astrological, the University administration can only do so much and is limited to offering advice and updates regarding the status of Animo Connect. Lasallians are now instructed to maximize the use of their home Wi-Fi or backup data in case of connectivity problems, especially when the stars do not align during online exams.
"The key to going through this cosmic chaos smoothly is purely preparation," Jem Minai, ITS spokesperson, emphasizes. They add that they have enlisted the help of several experts in astrology and are in talks to tap Feng Shui master Hanz Cua.
Cua declined to comment on the progress of the talks, although he offers tips for Lasallians having trouble with the campus wifi. "Dahil Year of the Water Rabbit ngayon, makakatulong sa mga Lasalyano ang pag-display ng mga lucky charm na may rabbit upang ma-activate ang kanilang swerte this 2023," the Feng Shui expert says. "Pasensyahan nalang sa mga frosh na ipinanganak noong 2005, Year of the Rooster, at hindi pabor sa inyo ang taong ito dahil hindi magkasundo ang tandang at ang kuneho."
(Because it is the Year of the Rabbit, Lasallians can activate their luck this 2023 by displaying lucky charms with rabbits. This year, however, really won't be favorable to frosh born in 2005, Year of the Rooster, because the rooster and the rabbit do not get along.)
Judas*, a Filipino astrologer, enumerates a few rituals anyone can practice to counter the effects of the Mercury retrograde. His most recommended is radical rest, which is essentially just being intentional with making time to rest instead of stressing over issues beyond human control like slow wifi.
"The Mercury retrograde is a sign to take things slow, so treat this time as an opportunity to do just that!"
*Names with asterisk (*) are pseudonyms
ERRATUM: An earlier version of this article mistaken History Department Assistant Professorial Lecturer Xiao Chua for Feng Shui expert Hanz Cua. The publication apologizes for this error.