As the application period for the Lasallian Scholarship Program (LSP) approaches, students at the University are gearing up for the highly-anticipated scholarship competition season. After drawing concerns over an outdated system for the selection of its scholars, the Office of the Executive Treasurer (OTREAS) has introduced a new concept titled Scholar Sabong: Meron o Walang Scholarship where two interested students will be pitted against each other for scholarship slots and other prizes, much like the infamous cockfighting games enjoyed across the country.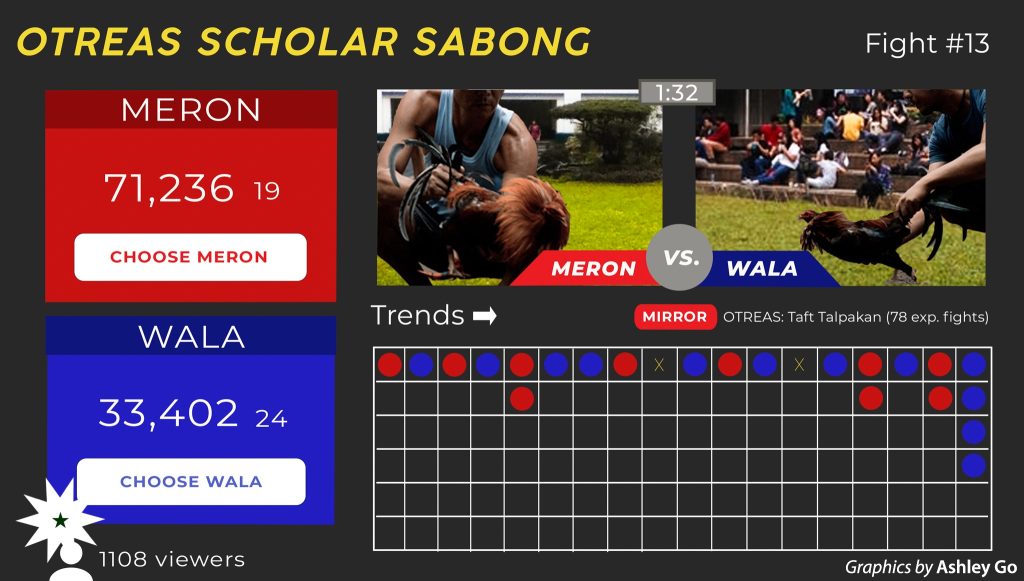 Happy Talpakan
The event runs on Wednesdays during application season—usually running from March to April—at the Amphitheater, which is now dubbed Taft Talpakan. The application forms ask for height, weight, and the student's body mass index for matchmaking, with scheduled fights in place of interviews.
The mechanics of the fights are similar to that of the traditional sabong but with Apple Pencils tied to students' wrists, instead of knives tied to roosters' feet. OTREAS invites students to watch and bet on potential scholars to fund the program further.
"Mabuti naman na ginagawa nila 'tobecause it helps fuel student participation, and I think it's good [that] the money we're betting helps scholars in need," says Miggy* (III, BS-MGT) who has betted P90,000 on one of the matches. He is amused that he can make money while helping those in need since the winning scholar earns a full ride in the University, an Apple Pencil, and five percent of the pot money.
(It's good that they're doing this.)
"Most malala thing was a broken arm, pero no casualties naman. Students have to find their own funds to cover for medical expenses. That's on them na," OTREAS representative Kayla* says. Students on the ground for too long are tapped by a referee three times, and they are given three seconds to get off the floor before they are declared losers.
Several faculty members are even making this a fourth-hour program. Full-time Gokongwei College of Engineering Professor De La Rosa states it is an excellent example to showcase economic inequality and a physical representation of an equal fight for opportunities. According to several students interviewed by The LuhSallian, De La Rosa is an alleged regular at cockfights and horse derbies.
Professor Marcos at the College of Liberal Arts shares that the event makes a good research paper topic as it is a physical manifestation of the needy fighting for what they need while the rich watch.
OTREAS denies allegations of 'unfair' matchmaking
A self-identified whistleblower claims that OTREAS' matchmaking process for scholarships is biased toward students affiliated with the USG Treasurer's political party. There have been reports that OTREAS has been putting a six-foot-one applicant against a five-foot-two student. Further investigation by the publication reveals that the taller student is affiliated with Santugon, or more popularly known as "the party [former] USG Executive Treasurer Caleb Chua ran under in the 2021 General Elections".
"It's not a coincidence. When I got a tip about the match, I bet my entire tuition for the next term on the six-foot-one [scholar] for an easy win. There are many other slated matches like this with a sure win." Christian* (IV, BS-MKT) shares.
OTREAS ensures in an emailed statement that the matchmaking process is as objective as possible to "create a fair game for everyone." The team adds that the matchmaking process can look unfair at times but dismisses this, saying "there is no factual basis."
"Sabong is a battle of technique and wit. In sabong, the chickens are chosen at random, where sometimes the underdog weighing two pounds beats a three-pound chicken…we find passion in your fight," Chua explains.
Although the concept has caused a lot of outrage among the student body, with several students highlighting that the proposition sets a dangerous precedent that promotes aggression and violence, there is still a significant amount of support for the game.
"Think about it nalang parang MMA. They fight for money, 'di ba? People also bet there. What makes this different?" Lewis Russel Mandayonon (III, BS-ENT) asserts.
(Think about it instead like MMA. They fight for money, right?)
In a statement, OTREAS expressed its gratitude toward those who support the game. Because of so much support toward the pot money, "bettors earn more than what we expected and we're funding more scholars [than] ever. Why didn't we think of this sooner?"
*Names with asterisks (*) are pseudonyms.