At the cusp of every academic year, a new set of students, often called the "frosh", are welcomed into the University with open arms—but only to some degree. There is a certain phenomenon that occurs every time new kids enter the University where upper batches bully younger batches, and it has become a mainstay in DLSU—so widespread that frosh batches have taken to social media to call out frosh hate.
#DLSUFW10675 and #DLSUFreedomWall59472, which detail how freshman students are subjected to upperclassmen's unnecessary snarky remarks, are prime examples of the frosh hate phenomenon that prompted Office of Career and Counseling Services Director Dr. George Mintal-Yan to create a program with the goal of reforming these so-called "Frosh Bullies" (FruBus). "The frosh hate is already out of hand kaya there should be ways to make everyone feel welcome in a safe space like DLSU," Mintal-Yan declares.
After the necessary assessments of current platforms and programs, the "Don't! The Frosh!" (DTF) program was born. DTF will serve as a brave attempt to eradicate the bullying and mistreatment of the younger batches in DLSU and will "hopefully encourage fellowship—and maybe even friendship someday—between the younger and older batches," Mintal-Yan adds.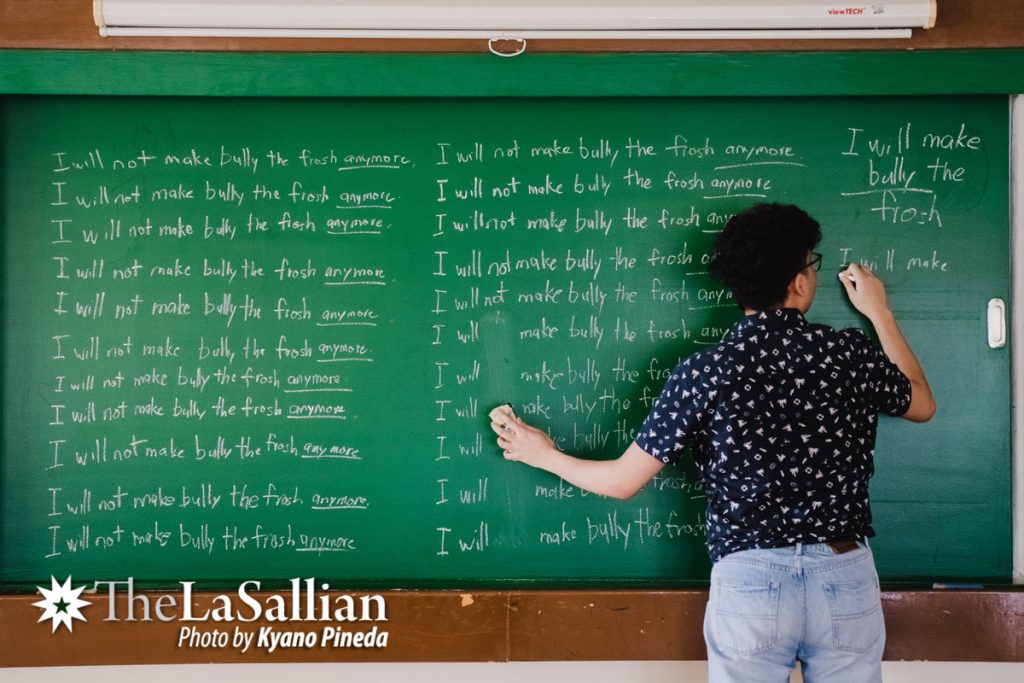 Establishing the groundwork
Contrary to popular belief, the FruBus' cooperation wasn't as elusive as initially presumed, especially since their graduation—both in the program and in their undergraduate courses—was on the line. "Just my two cents pero sana may program din kayo sa mga nakapasok sa college but still don't know how to do proper APA citation," Eleanor Rowndrip (IV, BS-PSYC) contends exasperatedly.
(I hope you also have a program for those who got into…)
Khloe T. Chasir (IV, ISE-LGL), DTF's student volunteer program head, admits receiving strongly-worded grievances from FruBus, but remains optimistic as she emphasizes that acclimating to drastic changes always takes time. "We will be DTF the entire academic school year naman, so I look forward to witnessing everyone's transformation by the end of it," she remarks with an encouraging smile.
Chasir then explains that the program will have three phases: Live, Laugh, and Love. The first phase, Live, urges FruBus to remember the distant life they once lived. "You once asked an upperclassman kung saan 'yung Mutien Marie Hall; 'wag nating i-forget 'yung roots natin," Hold Dalip (IV, MED-BIO), DTF's student volunteer personal relations officer, reminds the participants. Utilizing infographics and similar learning materials, this phase seeks to reacquaint FruBus with the minute yet potent changes apparent within the new batches of students.
(Let's not forget our roots.)
Laugh, on the other hand, utilizes a randomization process popularly known as "whether they like it or not" where a FruBu and a frosh volunteer are paired together to familiarize themselves with each other's way of living—a two-way immersion process that delineates potent behaviors. "Sawang-sawa na akong pagbawalan ng partner ko na maunang kumain ng lunch para sa IG story niya," Ivan Gamut (III, AB-OCM) shares. On the other hand, a frosh volunteer, Joshmar Joseph (I, BS-CHE) happily imparts, "My partner took a photo of me sa LS facade kasi it's supposed to bring you luck daw sa studies, I'm so glad we're getting closer na."
(I'm so fed up with my partner always telling me not to eat lunch right away so they could post on their IG story.)
Finally, Love seeks to internalize the breadth of conceptual and experiential knowledge enclosed with the initial phases of the program through sets of simulations. Chasir understands that it is difficult to unlearn firmly-rooted traits, hence it is important to continuously strive to develop better situational responses. "In one simulation, we had a group of frosh volunteers occupy 'yung entire hallway para i–discuss their lunch plans, and I am proud talaga to say na out of our 20 FruBus, 15 said 'excuse me' instead of barrelling through the group," she recounts with an elated smile.
A shift in perspective
Since its inception, DTF has garnered mixed reactions from its graduates and frosh alike. Harry Ang Hallaway (II, CIV-TRE), a recent graduate of the program, mentions that he used to scold frosh for crowding the corridors but has since then come to terms with them. "Na–realize ko talaga na deep inside, we're all still frosh," he says, while taking up space and pausing in the middle of the busy and crowded Gokongwei Hall lobby. On the other hand, Sinyor Diz-Coumpo (IV, PHY-MAT) feels that the culture of frosh bullying is not great, but not terrible, saying, "It's not in bad faith naman talaga if your intention is to help improve 'yung etiquette nila, but I do understand where the concern is coming from."
(I realized that deep inside, we're all still frosh.)
Likewise, the frosh have also started to make a difference as well. While walking with friends around campus, Bagalou Makad (I, BSA) felt much more conscious about their actions, as they noted, "I used to always make tambay with friends sa labas ng classroom, and now I tell them, let's tambay somewhere else." Joy Noldaorgs (I, AB-POM) also adds, "Never ko na–realize na we were doing something wrong."
(I used to always loiter outside the classroom with friends, and now I tell them, let's go loiter somewhere else.)
A closer connection
The efforts to change the bullying tendencies toward frosh students may not be 100 percent effective just yet, as it is expected that the phenomenon will continue to persist for batches to come. Regardless, the shift in perspective offered by DTF is slowly changing minds and drawing Lasallians closer than ever.
Student Discipline Formation Office discipline officer Greta Terdibro noted that, ever since the implementation of the DTF program, she has seen upper batches helping around frosh more often. "I think naalala talaga ng mga older batches yung mga struggles na nadaanan nila noong frosh sila dati, especially because of the Live phase," she notes.
(I think the older batches really got to remember the struggles they went through during their time as frosh, especially because of the Live phase.)
As DTF shows promise in addressing the divisive issue of DLSU's frosh bullying culture, it also drives home the fact that to err is human; people will make mistakes, and sometimes at the end of it, a bit of understanding will always go a long way for everyone. But for now, programs like these will go a long way toward establishing efforts to address the conflict, one step at a time.