An athlete's performance can oftentimes be determined by their confidence, which translates to their knack to perform at their best during practice and games. The so-called "swag" that athletes show off helps them maintain their play, while still displaying dominance. But what happens when this swag becomes excessive inside the court, at the very worst, on campus?
Known especially for their tough and intimidating appearance on the court, the Lady Spikers were reported to the Student Discipline Formation Office (SDFO) after getting called out by students who experienced their blusters first-hand. Those victims shared with The LuhSallian their accounts of the incidents.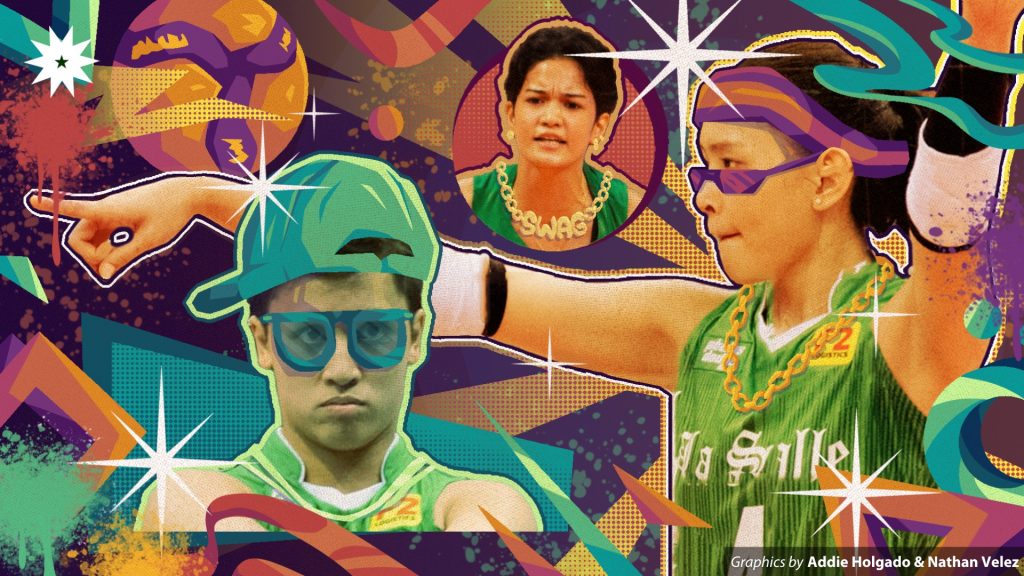 Scenes at the cafeteria
Opening up about his encounter with middle blocker Fifi Sharma at Perico's during a Wednesday lunch rush, Remus* (II, BSMKT) shares that he was surprised to see the cafeteria full of people. He decided to ask to sit at a random table, but to his shock, it was one of the volleyball players he had seen on television. "I asked if the seat was taken and if I could share but Fifi's reply was not what I expected. She rudely told me while shrugging and smirking, 'You can't sit with us!'" Remus was flabbergasted by this response. Investigating the incident further, The LuhSallian managed to get a statement from Sharma, who insists "He was wearing an eagle shirt, I couldn't take the disrespect."
Remus further comments, "Athletes are dauntless, I get so weak in the knees talking to them." The student furthers that he felt intimidated by the Lady Spiker during their whole interaction. Other witnesses also reported that Sharma would flex her biceps every time she would score a table at the cafeteria in an uncannily similar fashion to how the "Taft Tower" celebrates inside the court.
Without any Razon
Another testimony gathered furthers that the antics were not isolated to one player alone, but to the entire squad as well.. According to Geezel* (I, BSA), she was running late for her GETEAMS Mobile Legends class on the 10th floor of the Enrique M. Razon Sports Center when a group of tall girls in green and white athletic uniforms skipped the long lines of the elevator. Eventually, she recognized them to be the Lady Spikers. As they filled the elevator, Geezel tried to squeeze herself in to catch her class but senior outside hitter Jolina Dela Cruz closed the elevator on her. "Oops," she reportedly said with a staredown.
Team Captain Mars Alba, who was beside Dela Cruz, tried to hide her laughter and gave Geezel a "bombastic side eye." "I often see TikTok edits of their court antics and swag on my [For You Page], but I didn't think that they would actually do that toward fellow students outside the court," details Geezel. She also shares that those behind her in the elevator lanes did not call out the girls' actions and instead were screaming fanatically.
Unwavering presence
First-year student Daphne* (I, BSAEC), could not flee from the Lady Spikers' wrath either. She recounts that she was seated behind Amie Provido and Leila Cruz when they had a graded recitation in a class together. Looking to answer their professor's question and be exempted in their next quiz, the Applied Economics student lifted her hand to try to get her instructor's attention. Even as she tried to raise her hand higher and higher, she was no match for the height of the double block she was faced with. The two purposely thwarted her as they tried to gain the exemption for themselves.
Desperately wanting to be noticed by the professor, she asked Cruz if she could move a little bit, "Excuse me, is it possible for you to lean slightly to the left?" The hitter then replied, "You are excused." Rookie middle blocker Provido added, "If you want to be seen by the teacher so badly, sit in the front next time."
Both of them giggled as Daphne eventually decided to transfer chairs to the front row. She shares that she was in disbelief that they would bring this attitude off the court, "it was unnerving as they wouldn't give in despite my efforts." The sophomore furthers, "This is how UAAP hitters must feel when they keep trying to get through the Lady Spikers' blocks."
"We have not yet finalized the actions that we will take, but we have been receiving petitions to have them removed from the team," says SDFO Director Kung Fu Almadro, who furthers that it does not matter to them if the Lady Spikers are in the middle of their undefeated run in the season. He adds, "Manners matter more, that's for sure."
Lady Spikers Head Coach Noel Orcullo refused to give The LuhSallian a statement on the ongoing issue.
*Names with asterisks (*) are pseudonyms.