"It's a start," begins current Department of Biology Chair Russel Serpentino, "we are working toward the becoming and understanding of our animalistic origins."
Serpentino points to a brewing specialization in the Animal Biology program of De La Salle University (DLSU), Bachelor of Science in Animal Biology Major in Kahayupan (BS-HYP). Provided under the College of Science, BS-HYP is a four-year undergraduate program for aspiring hayops and scientists who wish to study them. It will be offered starting Term 1 of Academic Year 2024-2025.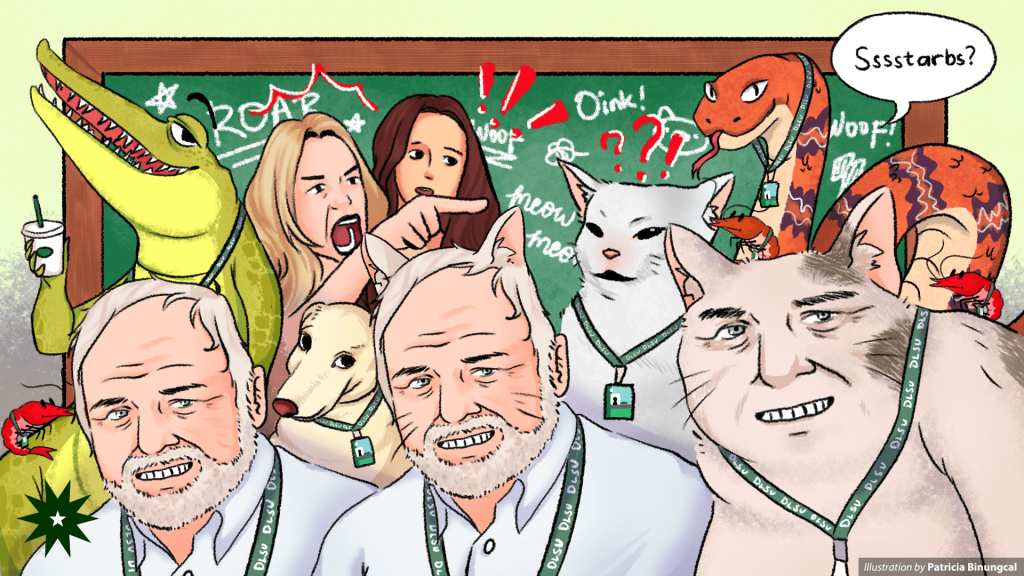 Peculiar creatures
A hayop is formally defined as a eukaryotic organism that moves, eats, and reacts to its surroundings through inhumane behavior. Similar to camouflaged animals, hayops blend into their friendly environments and conceal themselves from potential victims. Despite still falling under the classification of humans, these creatures are frequently caught in, but are not limited to, coy acts of betrayal, shameless manipulation, and pretentious passive-aggressiveness.
Jaalat Buaya, an associate biology professor of the University posits, "Maganda siya na opportunity for both students and professors." The program aims to equip students with a mastery of the biological and psychological sciences of hayops—consequently streamlining research efforts on hayop anatomy, physiology, and neurology. Notable job opportunities for graduates include professional gaslighting and stonewalling.
(It is a good opportunity for both students and professors.)
"Magkakaintindihan na ang lahat," she adds, stating that the program will be particularly insightful for analyzing hayop-hayop interactions between thesis panelists and students.
(Everyone will be able to understand each other now.)
Wild Opportunities
In aiding the students' return to their wilder instincts, the University will coordinate with the new University Zoo in the Laguna campus—which is to be established alongside the launch of the program—to procure laboratory materials and immerse students in the land of the hayop. In this process, students will be trained as future hipon managers, buwaya consultants, salingpusa correspondents, and ahasologists.
Students will take a Lasallian Hayop Studies class in addition to their regular Lasallian Core Curriculum courses to complete the program. They will begin taking their Kahayupan majors in their second year, with the first few being Introduction to the Art of Making Ka-Hayupan, and Kahayupan and Society.
Following this, they will participate in a special exchange program at the renowned Maniluuh Zoo to be up close and personal with different animals. Trina Tampalpuke, an assistant professor in the Biology Department reasons, "This is so that [students] are not just limited to being a hipon, or baboy. They can also aspire to be an elephant, or even a peacock!"
(This is so that [students] are not just limited to being a shrimp or a pig.)
Cathy de la Pusa (Ⅲ, ANI-BIO) narrates, "I'm so inggit. I really want to be validated as a hayop, but walang opportunity for me to be one! But I'm excited for the future ID 123 hayops!"
(I am so jealous. I really want to be validated as a hayop, but there is no opportunity for me to be one!)
Nothing is Purr-fect
However, skeptics have begun to surround the development of the program. "Nakaka–concern 'yung course because baka dumami mga ahas sa mundo," a Twitter user under the name SnakeCharmer69 laments, expressing concern about the possibility of hayops becoming an invasive species.
(The course is concerning, because the number of snakes in the world might increase.)
Another rising concern is the possibility of students hurting their peers and families as they embark on their journey of being a hayop. "Baka masaktan ko sila," a Grade 12 STEM student admits.
(I might hurt them.)
While she understands the roots of these worried sentiments, Buaya reassures that the faculty will do their best to ensure quality education and the safety of all future hayops. "Students have nothing to fear in being a hayop, because the animal is within us, waiting to be unleashed," she says. She believes that the program will bridge the diminishing gap between man and hayop. DLSU aims to become inclusive to all students as the program will teach and promote awareness of the importance of hayops in society. This is in hopes that, one day, humans and hayops will be able to walk the streets together.