Anyone in a committed relationship has experienced the fear of being replaced by their significant other at one point. This is often caused by thoughts of an unknown future and even the inescapable possibility that someone else may be a more suitable match for their partner. Typically, this manifests toward people who may be perceived as attainable to their lover, essentially making for a better partner.
This is how the parasocial relationship between a fan and their Korean pop (KPop) idol can pose as a new threat to romantic relationships. Partners of these KPop fans have been opening up to talk about their frustrations toward this recently developed phenomenon, like the concerned boyfriend from #DLSUFreedomWall57748, which features the anonymous poster expressing his disbelief about an instance where his then-girlfriend prioritized her KPop idols over him. "[I] can't believe she ended our call because she had to scream on her Twitter [about] her two biases posting a selfie," he recalls.
The post garnered quite a lot of attention and discourse about the apparent leverage these KPop idols have over a fan's significant other, which then begs the question: where must the line be drawn?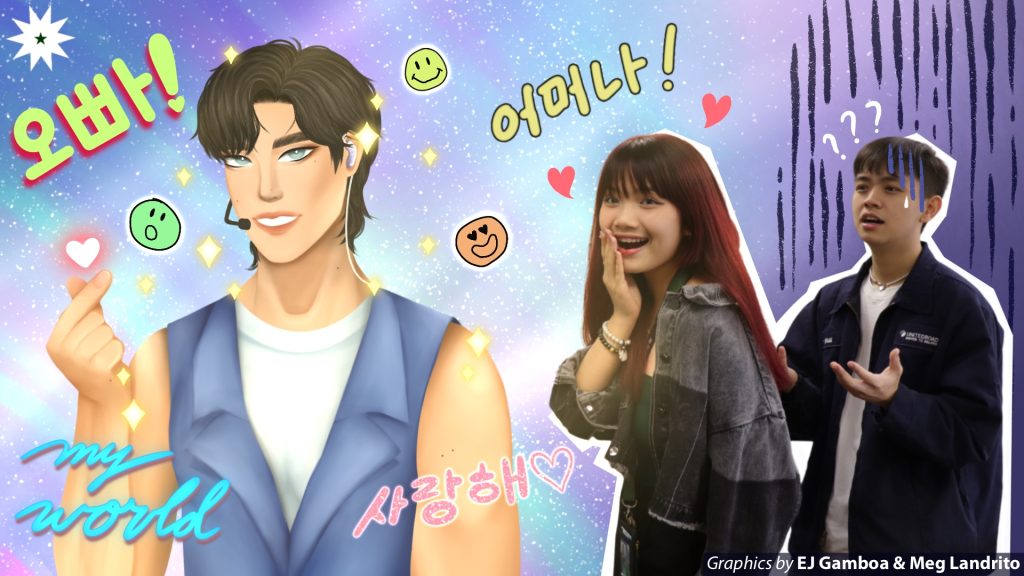 Caught in a love affair
Trying to balance the love one has for their KPop idols with the love they have for their actual partner is quite a difficult feat. In fact, it may almost seem impossible to muster up the same levels of love one has for their bias for their actual, real-life partner. While understandable, there is no denying that being neglected fosters unfortunate consequences and ill feelings, especially when these idols trump long-term relationships.
Mark Lipeik (II, BSLGL) confirms that he was aware of his girlfriend's KPop interest prior to them committing to each other, but does not deny the jealousy he feels. "Don't get me wrong, ha. I love her. Pero kung alam ko lang na uunahin niya lagi si Namjoon from BTS kaysa sa akin, baka nag-dalawang isip muna ako kung itutuloy ko panliligaw ko sa kanya," he shares dejectedly.
(Don't get me wrong. I love her, but if only I knew that she would always prioritize Namjoon from BTS over me, I probably would have thought twice about courting her.)
Instances such as throwing a bigger anniversary celebration for the debut of a KPop group over a yearly milestone of love with one's significant other can really take a toll on a partner's self-esteem. Knowing that an idol is more important to his girlfriend than he is continues to deepen Lipeik's insecurities and uneasiness to flourish. "I just don't get it," he shares helplessly. "Mark din naman pangalan ko, bakit hindi ko pa rin ka-level si Mark Lee? Kailangan ba maging KPop din ako?"
(I just don't get it. My name is Mark, too. How come I'm still not at Mark Lee's level? Do I need to become a KPop idol too?)
If not addressed, the problem this phenomenon induces may lead to even bigger ones. One user frustratedly writes online about how he and his girlfriend were sleep-calling peacefully until she started sleep talking. "I really thought she was calling out to me in her sleep, but she said someone else's name. Who the [expletive] is Wonwoo??? I think she's stanning someone new," he writes, putting two and two together. Another user writes worriedly, "I'm afraid she might leave me for her KPop boys one day."
As many boyfriends have sought to the internet to air out their concerns, a number of responses have shown their support and validation by calling for breakups. Some say the lack of effort isn't worth all the emotional turmoil, while others advise staying away from KPop fans altogether. "Bro, just leave her frfr, and then make sure to stay away from the KPoppers next time na lang—you deserve better, king!" username SigmaMale6969 advises.
First come, first served
There's always two sides to the story, though, and it's about time to head into the other side of the coin—or in this case, the other side of the photocard.
KPop fans are undoubtedly passionate about their idols and for a good reason—these idols have made meaningful impacts on their lives, even if the idols themselves are unaware of it. It only makes sense that, if personal interaction is not an option, the next best thing would be to express their admiration by dedicating their time, money, and effort to ensure that their idols can at least feel or see the large tide of love and support from afar.
"My idols' music quite literally saved me," recalls Nina Zenik (II, BS CS-ST), "which is why I always try to do the most during important days like throwing mini-parties or going out with my friends who are also fans. The idols can't see it, yes, but this is nonetheless a way for us fans to connect to them."
As the girlfriend of Mark—the student, not the idol—Zenik is very much aware of how there's often a comparable difference in how some KPop fans place effort when it comes to their idols versus when it comes to their significant others. "I've been in a relationship with Mark since 2019, but I've loved BTS and NCT, and even other groups, since before that. And as the saying goes…first come, first served," she jokes.
However, she does acknowledge that there should still be established boundaries and priorities between a fan's commitment to their idols and their partner. "Mark has always tried to be open to me kapag nagkakaroon siya ng concerns about it or kapag nararamdaman niya na parang nao–overlook na 'yung ibang aspects of our relationship because I end up focusing on my idols," she admits. "So we always make it a point to talk through things when that happens."
(Mark has always tried to be open to me if he has concerns about it or when he starts to feel like there are some aspects of our relationship that are starting to get overlooked because I end up focusing on my idols.)
This difference in treatment can lead to some interesting arguments over the course of a KPop fan's relationship, and Zenik shares that her relationship with Lipeik has no shortage of trivial fights over her idols, too. "It was our bebe time, and we were on a video call, planning on watching a movie together, but then Jungkook suddenly went live," she recounts. "I couldn't possibly pay attention to a movie then—Mark got upset because I ended up paying more attention to Jungkook, but it was like having twice the bebe time!"
Parting words
There's certainly nothing wrong with dedicating one's time both to KPop idols and a significant other, so long as equal priority is given and honest communication is cultivated. That way, there will certainly be a lesser number of significant others who feel left out of their own relationships, feeling as if they will be replaced by idols that are far from reach.
"It's important to give our partner the same energy we give our biases, if not more," Zenik advises. But she follows this up with a cheeky grin at her boyfriend. "Pero kapag pumunta sila dito for their concert, backseat ka muna, ha?"
(But once they come here for their concert, take the backseat for a while, okay?)
Mark simply sighs and nods in acceptance. For his own advice to readers, he provides a fair warning to those who are interested in or are in a relationship with KPop fans. "To those in a similar situation as myself, I highly suggest you prepare yourself. The competition you're up against is legit no joke."