Drinking culture among college students is not a new phenomenon; in fact, it has been a big part of university life for many generations. It has become a social activity that students use as a way to bond with friends and recover from the stresses of everyday and academic life.
Recently, the UAAP announced its plans to introduce a drinking competition in Season 86 as a new sport to cater to the collegiate scene. The decision has received mixed reactions from the public, with some arguing that it promotes "unhealthy drinking among students," while others view it as "a harmless way to have fun" and "build camaraderie."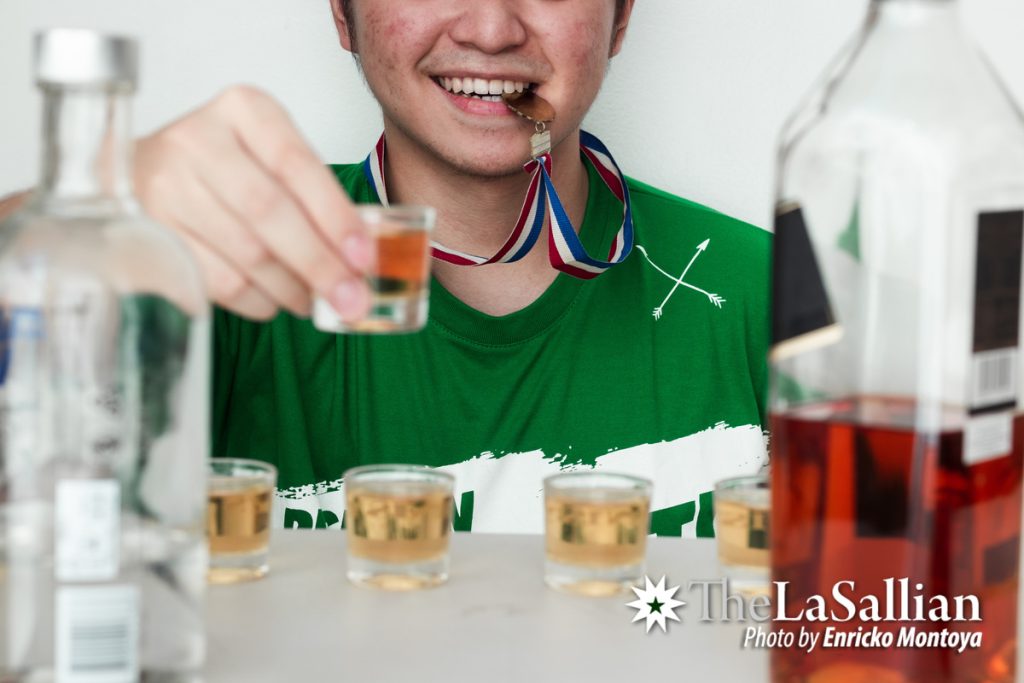 "I'm actually very excited to become an athlete in our school's drinking team," exclaims Richard Batumbakal (II, BSMKT), who was tasked to captain the newly formed DLSU Green Faces. He caught the attention of the school's program directors with his standout performances at Manila-based establishments "Pagkain and Beverage" and "Birch." Faced with a tall order, the sophomore further states that he has been drinking with his friends since freshman year and is looking forward "to bring the inuman glory back to Taft" and help DLSU bag some medals.
On the other hand, Lucky T. Tinio (IV, BSAPC) argues that this competition would just reinforce the harmful drinking culture among students, who may not even be equipped to handle the physical and emotional consequences of such behaviors. "What is the UAAP thinking? We must promote healthy and responsible drinking, not support it," he adds.
Shots from both sides
The introduction of a drinking competition in the upcoming UAAP season has sparked a debate from supporters and bashers alike, as some say this new sport sends a wrong message to the students that excessive drinking is acceptable and even celebrated.
For DLSU Office of Liquor Drinking (OLD) Executive Director Cuervo Margarito, this new sport is a harmless way to build camaraderie and promote sportsmanship among universities. He also points out that the public should not only focus on the negatives and consider the benefits, "Responsible drinking can be a part of a healthy and balanced lifestyle, and the competition can promote responsible drinking behavior as well."
UAAP and universities should prioritize the safety and well-being of their students first and take a responsible approach towards the safety measures regarding this drinking competition. "The UAAP encourages responsible drinking behavior among all participants of the upcoming drinking competition. It's important to prioritize safety and well-being at all times," the organization proclaims.
Familiar playing field
When it comes to getting loose or releasing stress during weekends, some students tend to get wasted in famous drinking spots, namely, Bonifacio Global City (BGC) in Taguig and bars around Poblacion, Makati.

The UAAP realized that they could take advantage of the popularity and frequency provided by these famous drinking locations, as both areas will serve as the official playing venues of the league's newly-established drinking tournament. Since the official announcement of the venues, students and administrators from UAAP-participating school DLSU have shared much optimism in this development. 
La Salle sipper Batumbakal believes these venues provide a much-needed advantage for him and his future team, as he spends most of his weekends in these areas. "Para sa akin, sobrang laking advantage nito because sanay na ako to go out and show off my advanced drinking skills and tolerance sa BGC and [Poblacion]. Syempre, I can't forget to show off sa mga shawties kaya this UAAP tournament will be a piece of cake for me. If I can show off sa mga shawties, what more sa buong UAAP community, diba?", Batumbakal confidently exclaims.
(Of course, I can't forget to show off to the shawties which is why this UAAP tournament will be a piece of cake for me. If I can show off to some shawties, what more to the entire UAAP community, right?)
The official venues are not the only big names involved in this new ordeal, the UAAP just announced that well-known brands such as San Miguel, Jose Cuervo, and Johnnie Walker will stand as the official sponsors of the tournament. The league will also utilize various drinks from these brands for each event.
Hustle over heart and liver
For the tournament format, all eight schools shall participate in familiar drinking competitions such as beer pong, king's cup, shot til you drop, no-hands flip cup, and heads up, among others. Each school will have a chance to go head to head against all UAAP participating schools, aiming for a final four spot at the end of the elimination round. The league also stressed that matchups will only feature three random drinking games, as each team will have a chance to avoid their weaknesses by voting out a single drinking game per match day.
In addition, the glory of this new competition is not limited to the winning team, but also to individuals that have shown such mastery in the drinking arts. Individual awards such as, "Walwalero of the Year", "Most Valuable Drinker" (MVD), and fan-favorite award "Most LowTol (Low-Tolerance) Drinker," are handed out during the playoffs.
As others may complain about this new development, athletes like Batumbakal view this as a new challenge for all universities, stressing that this competition showcases the "passionate school spirit of all students involved." At the end of the day, each school will bring out the best of its abilities in any kind of UAAP tournament—even if it requires much drinking experience.