Only a blessed few can master the art of vlogging. Many can dream, but only a few are gifted enough to excel at the arduous and intricate task of standing in front of a camera.
But the challenge does not end there for staunch supporters of current president Ferdinand "Bongbong" Marcos Jr.—in fact, his vloggers are upping the ante. Perfecting their on-camera presence is hardly the be-all and end-all of a BBM vlogger's craft. Instead, their vlogging skills constitute an even greater mission: to impart thought-provoking knowledge about the current political climate to their viewers. As unconventional of an approach this is, these vlogs undeniably captivate Filipinos in a way that traditional journalism can't.
Through unrivaled passion for delivering news of national importance, BBM vloggers undoubtedly have the most crucial job in the country: they are the voice of the future.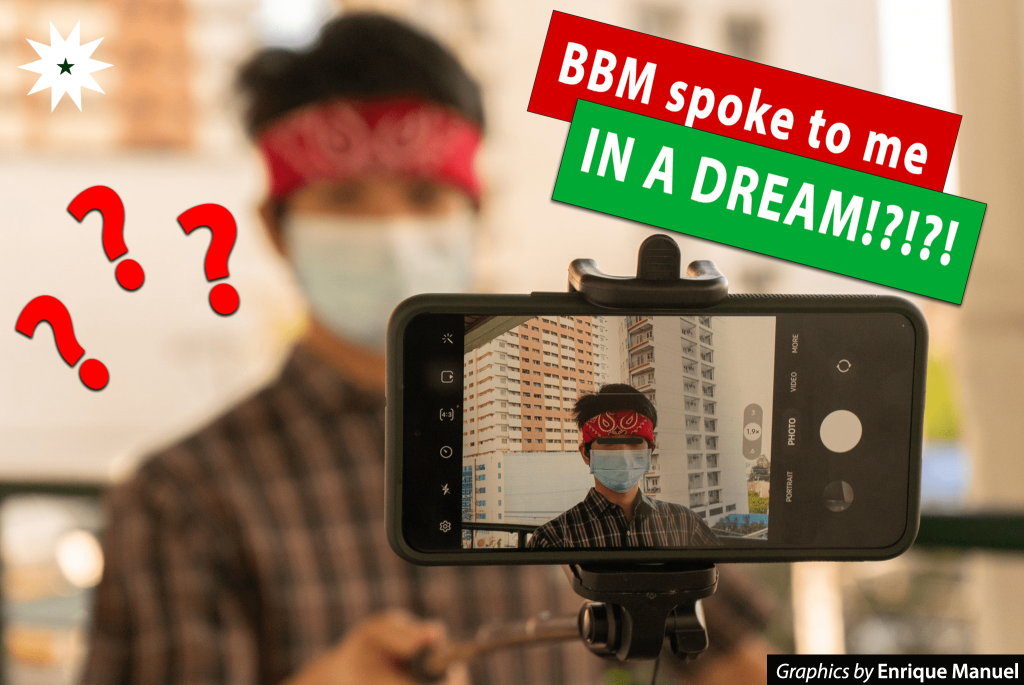 Vlogger Boi
From a young age, Adunba Boi knew he was destined for something great. "'Nung bata po kasi ako, wala akong talent," he shares. "Kasi, 'yung skills ko hindi lang pang simpleng talent show." But throughout primary and secondary school, Boi's teachers mainly had one thing to say about him: Boi loved to form a special connection with his peers and meddle with their lives. Admittedly, he was boundlessly curious about the lives of his classmates. "I wasn't being nosy," he explains. "I just figured there were lessons to learn from other people's drama where I was seated." Boi realizes that those experiences stemmed from the inaccessibility of information. From then on, he channeled his energy to advocating for freedom of information.
(When I was young, I wasn't talented. I felt like I had skills that were above talent show material.)
Now, at 18 years old, Boi has decided to put his experience and passion for free-flowing information to good use: BBM vlogging. Inspired by the swarm of vloggers dedicated to defending the Marcoses, he wanted to be part of a community that upheld the truth at all times—an army of critical thinkers who would never criticize Marcos Jr. negatively. He recalls that the exact moment he felt compelled to take up the challenge was when BBM vlogger icon Jer Tino said in one of his videos, "Take up your purse and follow BBM." "Kinilabutan ako sa video na 'yun, mehn, sheesh, aye, lezgo!" Boi exclaimed as he put both his hands up in the two joints gesture.
(I had goosebumps from watching that video, mehn, sheesh, aye, lezgo!)
But becoming a BBM vlogger is not without its challenges. When he publicly announced his new career, many of Boi's friends reached out to try and encourage him to reassess his political inclinations. But Boi refused to listen; to him, these people were "Dilawans"—a term coined for the supporters of the Liberal Party of the Philippines, whose symbolic color is yellow. Instead, Boi simply responded: "Kalimutan ko na yan, sige sige maglibang. Ang problema sa Dilawan dapat 'di iniinda. Hayaan kong sila ang maghabol sakin, 'diba?"
(I'll forget about that and just have fun. Pay no mind to problems involving Dilawans. I'll just let them chase after me right?)
Despite the odds, Boi has been positive that vlogging about all things related to Bongbong Marcos is a respectable career; he thinks it will earn him accolades he never thought would be within reach of achieving had he not gone down this path. He asserts, "There are only two things worth chasing in life: clout and Sandro Marcos."
Enlightenment from BBM vloggers
The route to finding the truth has not been easy for Tino, a video icon in the BBM community. "The journey is hard," he says serenely. "Despite the obstacles, I have finally reached my one, true, destination—enlightenment." This state of "enlightenment" allows Tino to sleep peacefully at night, indulging in his much-deserved slumber after a long day of advocating for knowledge and freedom.
According to many of Tino's followers, the vlogger has an air of candor and calmness around him. "It's like he is so sure of everything, it's unbelievable!" BBMBaby4Ever, one of Tino's loyal YouTube subscribers, commented under one of his videos. Tino continues sharing his inspiring journey, revealing, "The night I turned 18, I had a dream. In that dream, I was lost; it was as if I was a child, looking for their mother."
Tino shares further, with tears brimming from the corner of his eyes, "But instead of a mother, I found a father—the father of all nations, no other than BBM himself!" He rambles on, finally ending with the thought, "This vision, BBM said, was his 18th birthday gift to me!"
To become a truth-seeker, Tino advises his fans not to fall into the trap of fact-checking. "Kaya nga fact eh, kasi tama na 'yun, bakit pa kailangan i-check 'yung sinabi na ngang fact?" he quips matter-of-factly. He also reminds his followers to be patient with people who haven't seen the greatness of BBM yet. "Mabuting role model 'yan si BBM, may unique smile siyang talagang nakakapagpaganda ng pose niya," he shares.
(That's why it's a fact—it's already true. Why would you still need to check if it's already a fact? BBM is a good role model. He has a unique smile that works with his pose nicely.)
According to Tino, the "unenlightened masses" always tell him to verify news sources and examine his values, to which he counters, "Many people are just overthinking. Dapat kasi hindi masyadong ina-analyze 'yung mga sinasabi ni BBM kasi cool lang ang presidente dahil ayaw niya tayo mamroblema," echoes Boi. He adds that if people want to see the goodness in BBM, they just have to believe in him because "to believe is to see".
(People shouldn't overanalyze what BBM tells us because he's a cool president who doesn't want us to worry.)
The best job in the world
Being a BBM vlogger is a noble role, and integral to the intellectual development of society. It is because of them that disinformation and lies may finally be eradicated.
Supporting the Marcoses is a calling that Tino and Boi plan to actualize for the rest of their lives. "Making history by rewriting it, through enlightening many minds about BBM's greatness when others refuse to, walang mas nagpapasaya sa akin," Tino expresses. He will continue to vlog even with one foot in the grave—his confident words—for he strives to be as immortal as the Marcoses' legacy. "Besides, sinong magmumulto sa mga Dilawan?" Tino quips.
(Nothing makes me happier. Who else will haunt those Dilawans?)
Boi envisions an equally fruitful career for himself in the coming years. Possessing a glass-half-full attitude, he views the current stagnancy of BBM vloggers as an opportunity to monopolize the spotlight. Apart from getting a head start in citizen journalism, "Mapapansin rin ako ni Sandro Marcos," he says gleefully. Certain that his onscreen affability alone will skyrocket his vlogging career, Boi has no qualms about mixing business with such pleasure. "Mukha siyang masaya pero the work I do is still very serious and exhausting in itself, so I think I owe it to myself to unwind, if you know what I mean," he adds with a wink.
(Sandro Marcos will notice me. My work looks fun, but the work I do is still very serious and exhausting in itself.)
However different their career priorities may be, both Boi and Tino are unstoppable in their quest to promote the truth and nothing but the truth. Thanks to them, Philippine democracy is finally in good hands.