The Lasallian community was left in shambles following the sudden revelation of Facebook sensation Br. Richie Yap FSC's secret identity as the person behind the critically-acclaimed DLSU Freedom Wall.
The admission prompted a public outcry on social media, with people expressing their thoughts on the matter through the trending hashtag #BrotherSaUmagaAdminSaGabi.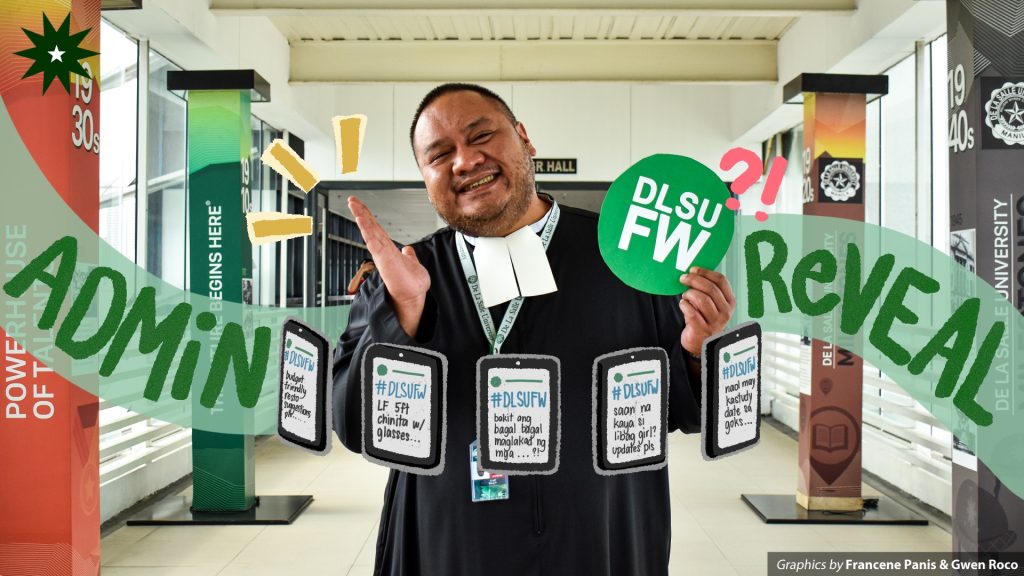 Double life
A DLSU Freedom Wall entry was mistakenly posted under Yap's personal Facebook account in early March. While most of his followers initially regarded it as one of his typical antics, its abrupt deletion, followed by a cryptic post stating "sorry xsend (wrong send) haha" motivated the public to question his true identity.
Yap called for a press conference at the Teresa Yuchengco Auditorium last Wednesday as an "act of integrity" to shed light on the longstanding issue, a move he described as "the peak of my career as an influencer so far."
"This is not a publicity stunt," he clarified after waiting for a viewership of at least 500 on the livestream on his personal Facebook account before speaking. "I'll get straight to the point. Yes, the rumors are true. I am the Freedom Wall admin," Yap confessed.
The press conference was also used as an opportunity to address problems in the Freedom Wall, particularly the issue of late posts.
"I sent a message back in Term 1 na LF: condo near campus, preferably ManRes (Manila Residences) or Vista Taft. After three months may roommate na ako and bayad na rin ako ng downpayment sa Green [Residences] tapos doon palang na–post. Paano ko siya iiwan ngayon, Br. Richie?" Yasmin Asistido* (II, YAS-MIN) shares in distress, noting that replies under the late Freedom Wall post offered cheaper units.
(…I now have a roommate and I already paid the downpayment in Green, then suddenly, it got posted. How will I leave her now, Br. Richie?)
"In truth, many of the posts on the wall posted in an untimely manner these past months simply because I couldn't remember my email password," Yap disclosed during a poignant moment in his address, emphasizing the struggles of recalling the details of his countless Facebook accounts. "I sincerely apologize to everyone who tried to greet their crushes 'Merry Christmas' last year pero hindi ko na–post. I-post ko na lang this December para hindi sayang."
(…but I wasn't able to post. I'll just post them this December so they won't go to waste.)
He also revealed that his posts about confessing to crushes were motivated by numerous student entries on the page. "To be honest, super dami talaga ng mga submissions tungkol sa crush nila. Personally, I think they should just confess tapos tingnan na lang kung anong mangyayari. Life is too short for regrets."
(To be honest, there are a lot of submissions about their crushes. Personally, I think they should just confess and then just see what happens next.)
Not so 'freeing' Freedom Wall
Several Lasallians met the revelation with a cold welcome. "Honestly, I don't know what to feel with Br. Richie learning about my deepest secrets. Weekly akong naghahanap ng love life doon, nakakahiya," Miguel* (IV, BS-MKT) expressed out of mortification.
(I look for a love life there weekly. It's embarrassing.)
Christopher Mercado (II, MA-LNDI), on the other hand, feels at ease with the educator's double life. "It's nice to know that I'm talking to an actual person behind that account. Wala kasi akong ka–chat sa Facebook, haha. Bale parang penpal pala kami ni Br. Richie, no? Wala lang, nakakakilig lang," he elaborates, noting that he feels "butterflies" in his stomach.
(I don't have anyone to chat with on Facebook, haha. So Br. Richie and I are like penpals, right? Nothing, it's just adorable.)
Sentiments questioning the future of the page also circulated online. Now that the identity of the DLSU Freedom Wall admin has been revealed, some students aired their discomfort toward the revelation.
Angelo Go* (I, MH-IEMA) says it's going to take her a while to "recover" and take everything in. "Prof ko siya nung senior high. Medyo kilala niya rin ako kasi active ako sa klase niya at close din talaga siya sa students niya in general. 'Di ko alam mararamdaman ko knowing na after all this time, Freedom Wall lang yung pagitan ng personal stuff ko and him, it's a very thin line."
(He was my prof during senior high. He kind of knows me because I was active in his class and he is generally close to his students. I don't know what to feel after knowing that after all this time, only the freedom wall is between my personal stuff and him, it's a very thin line.)
LF: New admin
Shortly after his public address, Yap announced his retirement as the admin of DLSU Freedom Wall. "Wala na, kilala na nila ako. Shy type kasi ako sa totoo lang," he cited as his main reason for quitting.
(It's over, they already know who I am. To be honest, I'm actually a shy person.)
When asked about his plans following retirement, he disclosed to The LuhSallian that he has yet to establish any future goals. "I don't have anything planned as of now. I'll decide on things once the issue dies down. I might be the next admin of the Ateneo or UP Freedom Wall, who knows?"
Before formally stepping down from the position, he will be opening applications for a new admin. Details will be posted through a DLSU Freedom Wall entry, however, the date cannot be specified yet as the page is currently occupied with posting backlogs.
Names with asterisk (*) are pseudonyms.
EDITOR'S NOTE (not a joke): Because Br. Richie Yap FSC is a private individual, The LaSallian has first reached out to seek our dear De La Salle Brother's consent before writing this satirical article.